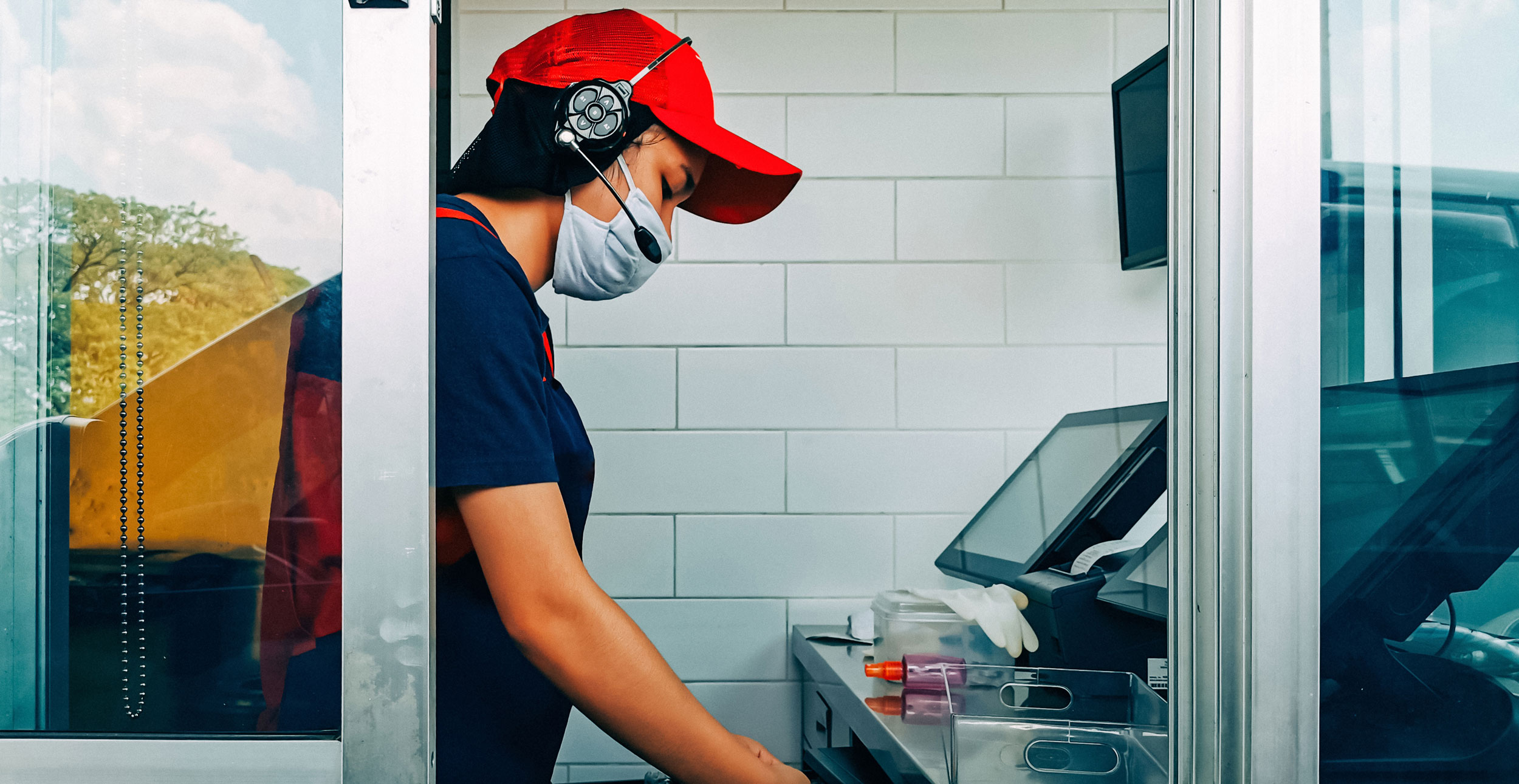 The COVID-19 pandemic has magnified an existing crisis that has faced California fast food workers for years. In an industry notorious for wage theft, sexual harassment and other workplace violations, workers must be empowered to set the standards they need in their workplaces and to hold their employers to those standards. The FAST Recovery Act is a step toward lifting up and empowering this essential workforce.
Our state can't begin to heal from the COVID-19 crisis until we put power where it belongs: in the hands of workers and the Black and brown communities who have been left behind for too long.
— Assemblymember Lorena Gonzalez
A Snapshot of the Fast-Food Industry
Fast food workers are nearly 80 percent people of color and more than 60 percent Latino/Latina; 25 percent of them are the main income-earner in their family. With more than 557,000 workers across more than 30,000 locations, California's fast-food industry stands out as one of the largest, fastest growing low-wage workforces in the state.
The FAST Recovery Act will give power to more than half a million fast-food workers in the state
The industry's workforce reflects the communities that have been hardest hit by COVID-19. A recent UCSF study found that food service workers had increased risks of mortality during the pandemic.
The introduction of the FAST Recovery Act is the culmination of years of worker organizing across the state that has been led by immigrants and people of color. AB257 gives workers the power to tackle systemic economic and racial justice issues that
have plagued the fast-food industry because they will be at the table crafting the solutions they want to see.
An Industry Rife with Abuse and Labor Violations
In more than 200 complaints filed with state and local health agencies, workers have detailed harrowing working conditions such as COVID-19 outbreaks in their stores, being asked to wear doggie diapers or coffee filters as masks, not receiving paid sick days, and being forced to work sick under threat of retaliation.
What is the FAST Recovery Act (AB 257)?
California fast food workers are organizing to build support for AB 257, the FAST Recovery Act. The FAST Recovery Act, landmark legislation that:
Gives Workers a Seat at the Table. With the creation of a Fast-Food Sector Council, fast-food workers will have the power to shape industry-wide workplace standards. That means workers can organize, mobilize and win higher pay and improved health and safety standards throughout the industry.
Holds Large Fast-food Corporations Accountable. If a fast-food restaurant franchise violates the law, the parent, fast-food corporation (McDonalds,
Burger King etc) does too. Corporate fast-food giants like McDonald's will be required to ensure all their restaurants have the resources they need to operate safely and in compliance with the law.
This is the first statewide legislation aimed at addressing issues facing fast-food workers.
What is the Fast-Food Sector Council and how will it work?
The Fast-Food Sector Council will be a statewide council made up of fast food workers, industry representatives and government officials.
The Fast-Food Sector Council:
Issues higher workplace standards every three years at minimum;

Can issue stronger emergency standards in response to crises like COVID-19;

Holds hearings every six months where workers tell their stories and drive their demands in different parts of the state;

Forbids retaliation against fast food workers.
What legal authority does the Fast-Food Sector Council have?
The Fast Food Sector Council would have the authority to issue standards across the industry regarding fast-food workers' employment conditions including health and safety standards, wages, training, and emergency standards (e.g., for a pandemic).
Enforcement of those standards would happen through existing bodies and mechanisms.
Once the standards are set, how does enforcement work?
All existing enforcement practices are used and the standards issued by the Fast-Food Sector Council will carry the weight of law. The usual regulatory notice and comment process applies.
Will workers bargain directly with their employers?
No, not through this law. The Fast-Food Sector Council will issue standards every three years. The council cannot issue standards that weaken previous ones. This will be a mechanism for progressive change.
This does not interfere with workers' rights to join unions and collectively bargain for even better working conditions.
How will the FAST Recovery Act affect small business owners?
The FAST Recovery Act applies to large fast-food chains of at least 30 establishments nationally. It is meant to hold accountable the largest fast-food operators in the state. 
The FAST Recovery Act is good for small businesses in that it makes it harder for corporate franchisors to squeeze California franchisees. AB 257 would prevent corporate franchisors from setting terms that keep franchisees from making enough money.
Under the FAST Recovery Act, corporate franchisors will share responsibility for problems they help create. If a California franchisee ends up with legal liability because of terms set by the corporate franchisor, the corporate franchisor has to help cover the cost.
Expanded corporate profits and higher dividends should not be more important than the safety of half a million Californian workers. AB 257 would empower franchisee owners to push back on corporate franchisors who move to increase the franchisee owner's costs if those resources are needed to comply with wage and safety standards.
How will the FAST Recovery Act affect taxpayers?
The Fast Food Sector Council will come at administrative and staffing costs, however, the benefits of higher workplace standards in the fast-food industry will end up saving
taxpayers money in the long run. A recent study by researchers at UCLA and UC
Berkeley found that due to the low wages and lack of benefits in fast-food,
two-thirds of California's half a million fast-food workers rely on safety net programs at an average public cost of $4 billion statewide per year.
Will the ABC test continue to apply to fast-food workers?
Absolutely. The FAST Recovery Act strengthens the ABC test  by requiring large fast-food corporations to share responsibility with franchisees for running safe and compliant workplaces.
Does the FAST Recovery Act create a "third category" of worker?
No. The FAST Recovery Act strengthens worker protections and worker voice. It does not change the workers' employment status and all current employer responsibilities remain intact.
Does the FAST Recovery Act impact workers' ability to organize under the NLRA?
No, the bill does not in any way alter workers' rights under the NLRA. The bill does not interfere with workers' rights to join unions and build power in the workplace and collectively bargain for even better working conditions.
Fast-food workers in the Fight for $15 and a Union will continue organizing and demanding union rights.
Would Starbucks workers be covered by AB 257? 
Yes. California Starbucks partners and baristas are covered by AB 257 as part of the state's half million fast food workers who would win a seat at the table with the passage of the bill.  SEIU is supporting the national movement of Starbucks Workers United and will continue to support all workers organizing at their workplaces and sector wide.